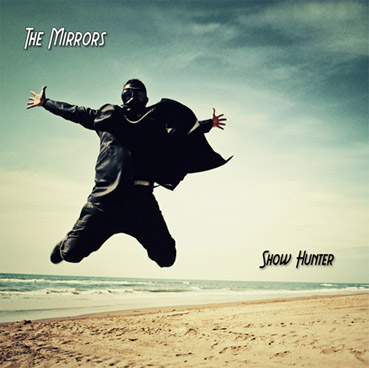 The Mirrors is a music project founded in Milan in 2002 by Marco Ortensi.
The sound combines new wave elements with smooth pop melodies and a vintage psychedelic flavour melted by a rock 'n' roll energy.
They released a series of albums/eps (Nothing at all but stars, Time beats only once, The Great Illusion, The big eye, Firenoon, Get it now) that were well received by critics, who declared them among the best acts of the Italian alternative rock scene (Time Beats Only Once was a RockSound album of the month in 2005, a prize from InSound magazine critics and cool reviews on Rockstar, Rumore, Tribe Magazine, Rockerilla, Corriere della Sera, RockIt, Tutto Musica, Mucchio Selvaggio, Losing Today, Freequency, etc). The songs played many times on Radio Rai 1, CBS Jack FM 101.1, RockFM, Radio Popolare and other networks.
Many appearances have been made at festivals and clubs including: Festival della Creatività in Florence, the Rai Demo Mei Festival (in front of 25'000 people in Lamezia Terme), L'Unione fa la Musica, the IPO Festival at Liverpool's Cavern Club, Milano Film Festival at Strehler Theatre, the Milano in Music Festival at the Castello Sforzesco and others. They shared the scene with artists such as Peter Hook (New Order/Joy Division), Andy Fletcher (Depeche Mode), Hinkel (Fools Garden), Velvet with Negramaro, L'Aura, Daniele Groff, Moltheni, Simone Cristicchi, Teresa De Sio, Raiz, Gatto Panceri, Max Brigante, Zelig/Scaldasole, A toys orchestra.
During the first years of activity The Mirrors won 3 awards: the critique prize of InSound national magazine in collaboration with EMI, the 'Best rock band' from Comune di Brescia in collaboration with BMG, Yamaha and RockOl thanks to the song 'Meggy flies with me' and finally 'Palco di Alice' organized by Telecom with Sony/BMG, Tribe Magazine and Jungle Sound studios, receiving the award from Linus (Deejay Radio/TV director), thanks to the song 'Channel war'.
A special attention from Michael Pergolani and Renato Marengo that broadcasted the band songs as 'The whole' and 'Face the spinder' more than 50 times on Radio RAI 1 - Demo as Best of Demo, Best of 2005, Demo Clip, sigles and special interviews among Fiorello e Cristina Donà, inviting them to the Lamezia Demo Mei Festival in collaboration with Rai International.
In 2006 Great Illusion have been the most voted and most downloaded song of 'iNdipendente' by Edel, a compilation including Marta sui Tubi, Soho feat.Morgan & Alberto Fortis, Hormonauts, receiving an award at MEI - Meeting Etichette Indipendenti from Giordano Sangiorgi and Paolo Franchini (a.d. Edel).
In the same period the Italian actor Giorgio Pasotti selected 'Do you know how I feel inside?' for his music compilation project.
Some songs have been selected and composed for short films (Men at work and The script by Fausto Caviglia) mentioned and awarded at Venezia Film Festival, Odense Film Festival, Budapest Film Festival e Reggio Emilia Film Festival and screened on Sky Cinema and Mtv, while other songs for commercials (Disney, Tim, Vodafone, Burn, Manor, Pago) with the turkish director Murat Gonullu (Incognito, Deasonika, Sezen Aksu, Ajda Pekkan).
Some pieces such as "If" and "The Whole" received special mentions from Billboard and the International Songwriting Competition, which featured Robert Smith (The Cure), Peter Hook (Joy Division, New Order), Frank Black (The Pixies) and Chris Hillman (The Byrds) among its jury members.
The Mirrors worked with both Italian and international musicians. In 2007 was born a collaboration with Andy (Bluvertigo, Fluon) with his figurative art and Hinkel (Fools Garden side project) that led to the split 'The Big Eye'.
The first video "If", directed by Leone Balduzzi (Morgan feat Pagani, Planet Funk, Tiromancino, Elisa), received many accolades for its well-researched adaptation of cinema's film noir style.
The English well-known international magazine 'Shots' applauded the band's video and director work. When the television networks MTV Flux, Sky, Alice TV and Canada's CBC put the video on the air, 'The Great Illusion' Album reached the 4th place in Italy's iTunes rock chart in March 2006.
Praise continued to rain upon the group, which received two PVI (Rockol) and PIVI (MEI) 2006 nominations and invitations to the 'Festival della Creatività' (by Regione Toscana), the Venice Airport Festival (by Comune di Venezia) and O'Curt (by Comune di Napoli). The video was also included to the All Music TV's 'Video History of Rock' and in a Roxy Bar's dvd.
Some of the best recognition to date came from abroad when in 2007 Steve Zuckerman – winner of two Grammy Awards for the production of Les Paul & Friends with Keith Richards, Eric Clapton and Sting – took note of "The Whole" and chose to include it in a charity project called Hope: Love is the Answer alongside Robert Fripp of King Crimson, Richie Havens, Christopher Cross and Joe Cerisano. The song played several times on the Big Apple's CBS Jack FM 101.1 radio station.
The producer Andre Doucette (30 Seconds to Mars) selected the song 'Through' for the Canadian film Shred (Peace Arch/Movie Central) directed by David Mitchell and starring Tom Green, distributed in around 8 countries all over the world. Soundtrack by Norman Orenstein.
"Hit the sun" was placed in the Scottish UK film "You Instead" by Sigma/BBC/Sony and directed by David Mackenzie. With Alastair Mackenzie, Gillian Berrie, Natalia Tena, Al Green and Paolo Nutini. A film set on 'T in the park' appreciated from Sunday Mirror, Heat Mag and awarded at Glasgow Film Festival, Scottish BAFTA and BIFA 2011. The film has been showed in UK cinemas and distributed in around 12 countries all over the world.
At the beginning of 2012 "Hit the sun" is selected for the 17th episode of the mystery/thriller TV series"The lying game" (Warner) on ABC Family Usa and distributed in about 15 countries all over the world (Rai 2 for Italy), directed by Michael Grossman and developed by Charles Pratt Jr (Beverly Hills, Melrose Place). Soundtracks are written by Pieter A. Schlosser (Trasformers, Desperate housewifes, Sims 3).
A new EP called "Show Hunter" came out in 2009, showcasing The Mirrors artistic maturity and continued musical growth. Drums are produced by Gianluca Mancini (Pacifico, Einaudi, Malika Ayane).
Marco between his side projects created and produced an international event called 'Music Think Tank Awards & Festival' involving Roger O'Donnell (The Cure), Jimmy Destri (Blondie), Curt Smith (Tears for fears), David Knopfler (Dire Straits), Morgan Fisher (Mott the Hoople, Queen, Yoko Ono), Richard Barbieri & Mick Karn (Japan, Porcupine Tree), Roger Joseph Manning Jr (Morrisey, David Bowie, Roger Waters, Ringo Starr, The Killers), Martin Moscrop (A certain ratio), Mark Gardener (Ride), Mark Morriss (Bluetones), Blaine Leslie Reininger (Tuxedomoon), Bill Ryder-Jones (The Coral, Arctic Monkeys), Volker Hinkel (Fools Garden), Alberto Ferrari (Verdena), Max Casacci (Subsonica), Andy (Bluvertigo, Fluon), Luca Bergia (Marlene Kuntz), Diego Galeri (Timoria), Gianni Maroccolo (Litfiba, Csi, Cccp) and Rezophonic.
Created and managed the label Echophonic following artists such as Carla Boni produced by Alessandro Orlando Graziano, Hinkel (Fools Garden), Daniele Groff, Atletico Defina, Fabrizio Coppola, Lato, Giuliano Dottori, Summer of '79, La blanche alchemie, VOV with Steve Forrest (Placebo).
Created and produced the Piperine Festival 2006 involving some interesting independent artists like Chris Chinchilla by Art Brut (Uk), Moltheni and many others.
Other components of the band have been Andy Vitali, Matteo Carta, Emanuele Platania, Andrea Gobbi, Michele Conversano, Alessandro Dell'Aera and Luca Gelmetti.